2015-06-22 08:00:07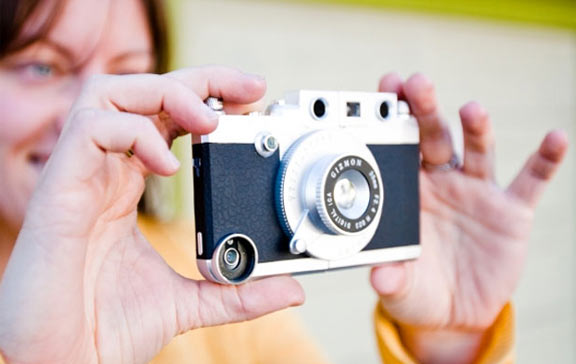 What interesting contests you met at the wedding of a friend or relative? Did we get them something special? Or they have attracted your attention? Probably not, because all the jokes are pretty similar and repeated year after year - is changing the preface and props.
It takes a few hours, guests are divided into several small groups, and continued until the end of the wedding only communicate with each other. Interest to all, regardless of age and sex, and bring to a total entertainment will help one small, but very attractive subject - camera.
Let's start the parade photo entertainment!
Dive into the holiday atmosphere right from the start will help small studio, equipped with a separate corner of the banquet hall. Background can create quite diverse - bright wallpaper, some antique picture frames, blackboards with interesting inscriptions or figures and false mustache and glasses. Everyone who was photographed obliged to come up with a composition for the next couple. Thus, visitors can get acquainted with each other - it's impossible to take a picture of a man, to say a few words, but did not learn his name. In addition, each will receive a souvenir fun and easy photography.
Next game will continue for the entire wedding. Of course, before you should declare the rules and prepare a simple inventory. Each guest individually photographed at an instant camera (Polaroid) Picture is cling to the tape and give the owner. A photograph can be hung around the neck, the hands, a belt or strap from the evening bag.
Then the real fun begins!
Everyone should not only carefully monitor their own image, but also to try to steal it from another. You can not pull a photo with it, if the "victim" saw an attempted robbery. The winner will be the one who gets hold of the higher number of shots - a real hunter photos!
Three complete wedding entertainment competition for the title of the best photographer. We know that all take with them to celebrate the camera or camera phone - why not turn an ordinary case for competition? Offer guests a list of nominations for best picture in unexpected categories: a sincere smile, a bright accessory newlyweds kiss, dance, conversation - anything that comes to mind. Implement and interesting prizes for the winners.
Thus, visitors will spy on each other, trying to catch the brightest moments and unconstrained expression. And instead of thousands of unnecessary selfie absolutely everyone will get a souvenir unforgettable picture.