2015-06-22 08:10:05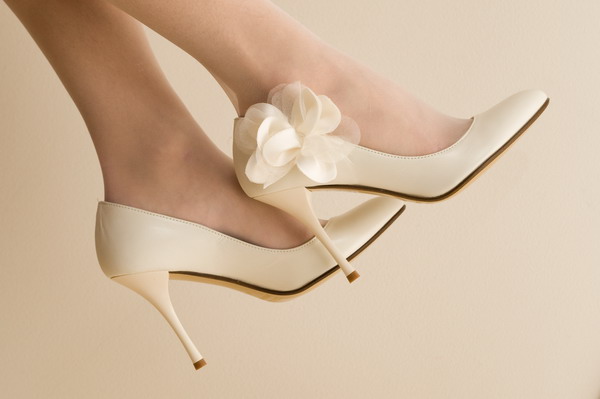 The choice of shoes - it's probably the second most important item in creating the image of a bride after the wedding dress, because it is necessary to pay attention to the following points:
Material
First of all, it is important to know where your shoes are made - silk, lace, taffeta. If you are a fan of classic style, choose material according to that from which sewed clothes. However, deviating from accepted norms and opting for other stuff, you can create a unique flavor to your wedding dress. Brightness and unique shoes is a great element of the wedding photo shoot and complement the overall theme of the festive evening.
Color
In place of the white color of the increasing popularity reached such nuances matter, ivory, champagne, peach, pink and others. Choosing a non-traditional color of the dress, try to find an identical color to your wedding shoes. If you do not use the services of a stylist and decided to do everything yourself - look for shoes with the same color scheme along with the difference in a few colors to avoid focusing only offers individual components and not on the overall image.
Heels
Seeing the store at first glance the perfect shoes, do not rush to the acquisition and answer a simple question - not too high heels? In addition, they should coincide with the length of the chosen dress, do not forget - you put them in one hour. The wedding ceremony, photo session, the meeting invitees and other steps can turn a fairy tale wedding of your legs to fatigue insane. And the first dance of the newlyweds? Weigh all the "pros" and "cons" and think again.
Comfort
After selecting the desired height selection, consider several different pairs of shoes that you can offer employees the cabin. Try them stand, walk and just sit. If for a moment you feel uncomfortable or doubt about the amenities - ask others to offer or go in search of the next shop. Of course, the more often we choose shoes for the rule, "I just like it," but now the case is not normal and should be paid attention to all the small details for your own comfort wedding day.
Time
Happy smile on your face suggests that you have finally chosen their glass slippers. By putting them together with the dress, you can not stop looking at that wave and wait when you can wear them. However, do not leave it to enjoy the wedding day. Get used to the new shoes, walk in it from room to room, achieve the effect of lightness and comfort. Typically, new shoes need some time out to emphasize the elegance of your moves. Therefore, become best friends with them and allow the gentle care of you on your wedding day. Perhaps they adorable?
We would hope that these tips will help you to be incredible every second of your unforgettable holiday. Take your time, consider your own desires, and pay attention to all that you may be interested. Most importantly, a fantastic night ended only when you want it, slowly going into the full life of happiness. And let your legs rather walk in wedding shoes to his infinite love!